Designed to be a perfectly balanced, built for heroic adventure
The Sling 2 was built for heroic adventure. Her 2009 maiden voyage flew Sling Aircraft founders Mike Blyth and James Pitman Around-The-World (ATW). A 40-day, 45,000 km journey that included 22-hour legs of the severest of weather conditions. Her aluminium airframe makes for ease and consistency of construction, while offering proven strength and a longer lifespan than most composite rivals.
Designed to be a perfectly balanced aircraft, the Sling 2 is a sexy looker that would out-perform other aircraft in its class while being highly economical and fun to fly.
Being a stressed-skin, semi-monocoque aircraft, the Sling 2 is made to precise standards from aviation grade aluminium, punched using CNC machines. Rugged aluminium lines, combined with cutting-edge tech advances, ensure that the Sling looks the way an aircraft should and flies even better.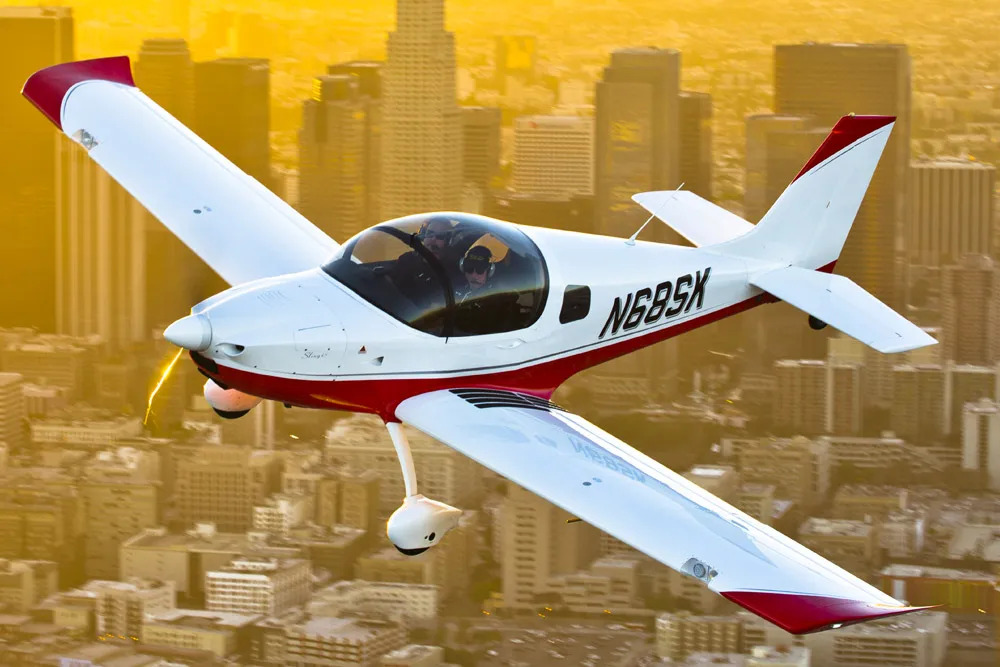 Design the exterior of your
Sling Aircraft to your liking
Turn your Sling into your personalised dream aircraft using our numerous standard or complex paint scheme and vinyl design options. In addition, Sling Aircraft uses LEDs for all exterior lighting. Not only do these use less energy and generate less heat, they are exceptionally bright and allow for sharply defined beams.  Effortlessly elegant, superbly appointed and finished with a forensic eye.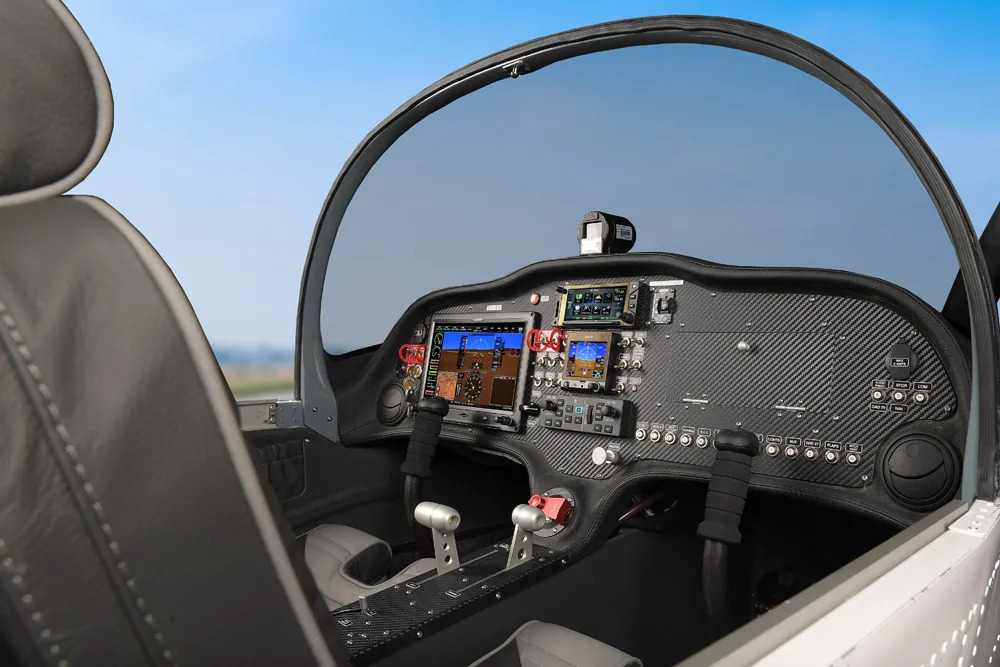 A truly first-class travel
experience
Sublime and beautifully appointed, the Sling 2's interior features executive two-seat comfort. Enveloped in authentic leather and lavish carpeting, the Sling 2 stands out with an elegance that adds a touch of class to aircraft interiors. Available in four colour palettes: Cast Iron, Red Velvet, Indigo Sky and Cloud Burst with stitching, piping and panelling in complementary colours.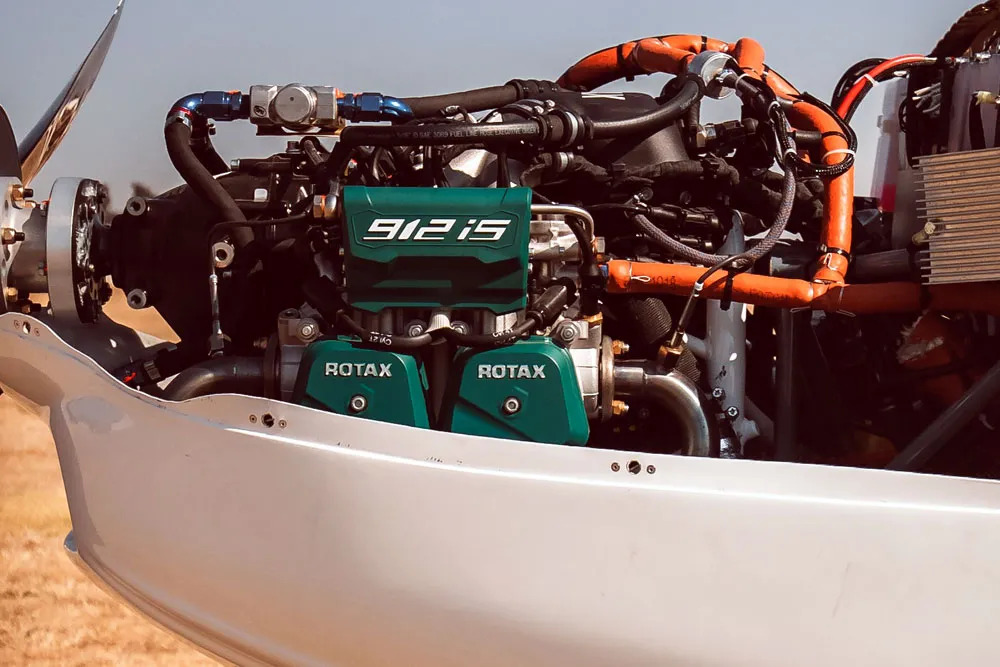 SLING 2 POWERPLANT AND PROPELLER
Your Sling 2 is powered by a Rotax 912 / 914
and is available as a 912 ULS, 912 iS or 914 UL
A 100 hp Rotax 912 ULS offers a time between overhauls of 2,000 hrs and is the best power to weight ratio in its class. Alternatively,  the Rotax 912 iS offers all the well-known advantages of the Rotax 4-stroke engine series as well as additional features which will ultimately enhance the flying and ownership experience of pilots. A 115 hp turbo charged Rotax 914 UL on the other hand, offers more performance at high altitudes while delivering lower weight engines.
When powered by the Rotax 912 ULS / iS, the Sling 2 is fitted with a Warp Drive 3 Blade Ground Adjustable propeller. These propellers are more affordable and lighter in weight and when compared to a fixed pitch propeller. Ground-adjustable propellers mean that pitch changes can be made on the ground to optimise the aircraft for current payload and flying conditions. However, when powered by the Rotax 914 UL, your Sling 2 is fitted with an Airmaster 3 Blade Constant Speed propeller. Variable-pitch propellers automatically change its blade pitch in order to maintain a chosen rotational speed. As a result, this operation perfectly suits modern engines, particularly the turbo charged variety.
A very nicely integrated control panel throughout
Excellent instrumentation options make for a unique and state-of-the-art flying experience at a fraction of the cost of our certified competitors. Full integrated EFIS with autopilot, radio and transponder with 2020-compliant ADS-B is available with live weather and traffic alerts in the cockpit.
Specifications & performance
| | Rotax 912 ULS | Rotax 912 iS | Rotax 914 UL |
| --- | --- | --- | --- |
| Manufacturer | Bombardier ‐ Rotax GmbH | Bombardier ‐ Rotax GmbH | Bombardier ‐ Rotax GmbH |
| Horsepower | 100 hp / 75 kW | 100 hp / 75 kW | 115 hp / 86 kW (Turbo) |
| Maximum allowable speed (VNE) | 135 KIAS / 155 MPH | 135 KIAS / 155 MPH | 135 KIAS / 155 MPH |
| Cruise speed – 9,500 ft AMSL | 120 KTAS / 138 MPH | 120 KTAS / 138 MPH | 130 KTAS / 150 MPH |
| Stall speed – clean | 46 KIAS / 53 MPH | 46 KIAS / 53 MPH | 46 KIAS / 53 MPH |
| Stall speed – full flaps | 40 KIAS / 46 MPH | 40 KIAS / 46 MPH | 40 KIAS / 46 MPH |
| Max demonstrated crosswind component | 15 KTAS / 17 MPH | 15 KTAS / 17 MPH | 15 KTAS / 17 MPH |
| Takeoff ground roll – concrete | 560 ft / 170 m | 560 ft / 170 m | 460 ft / 140 m |
| Landing distance – braked | 295 ft / 90 m | 295 ft / 90 m | 295 ft / 90 m |
| Rate of climb – sea level | 700 ft / min | 700 ft / min | 900 ft / min |
| Maximum operating altitude | 13,000 ft ASL | 13,000 ft ASL | 16,000 ft ASL |
| Endurance | 8 Hours | 10 Hours | 7 Hours |
| Range @ 75% power with 45 min reserve | 750 nm / 1,400 Km | 850 nm / 1,600 Km | 700 nm / 1,110 Km |
| | Dimensions |
| --- | --- |
| Wingspan | 30 ft / 9.54 m |
| Length | 21.9 ft / 6.675 m |
| Height | 8 ft / 2.45 m |
| Cabin width | 43.8 in / 1.11 m |
| | Weights ( 912 ULS | 912 iS | 914 UL) |
| --- | --- |
| Standard empty weight | 370 kg | 382 kg | 384 kg |
| Maximum useful load | 330 kg | 318 kg | 316 kg |
| Maximum takeoff weight | 700 kg |